Be closer to Polish customers. Be closer to Polish Industry 4.0. Be closer to implementation.
If you are developing an industrial solution and looking for customers in Poland – the KPT ScaleUp accelerator is right for you.
We create favorable conditions to support foreign startups that want to expand their business into the Polish market.
If you apply to KPT ScaleUP, we will connect you with our Partners, large Polish industrial companies or investors. We wish to facilitate your start on the Polish market. We will help you finance and plan the development and validation of your product and business model.
Want to know more?
Contact us!
Małgorzata Chmielewska
If you are interested in our acceleration support program, please stay tuned for future call for applications
How to apply?
rozwiń
zwiń
What do we offer?
rozwiń
zwiń
This is our way to bring you closer to business success in Poland:
We provide you with a grant up to EUR 66,000 for your startup (EUR 11,000 for softlanding + EUR 55,000 for acceleration).
REAL HELP IN EXPANDING TO THE POLISH MARKET
Our experienced team will make sure to be close to you and your startup throughout the acceleration. You can count on our commitment, availability and practical support.
COOPERATION WITH INDUSTRY 4.0 AND NEW TECHNOLOGY EXPERTS
Acceleration program gives you: access to a group of industry experts from our partners. You will benefit from networking with Polish founders, mentoring and consulting of specialists in law, finance, marketing, sales and management.
DIRECT ACCESS TO POTENTIAL CLIENTS
Our ecosystem consists of over 200 industrial companies and several investment funds. We invite them to Demo Day, a big event organised to present exciting solutions developed by startups and industrial Partners.
Who is acceleration for?
rozwiń
zwiń
Check the ideal profile of a startup that we are looking for:
you have solutions that answer to technological challenges of our partners
you use technologies such as IIoT, VR, AR, AI, big data, robotics and automation, as well as others helping to digitalize business processes
you have a solution ready for validation and test implementation at one of our partners
What conditions must be met?
rozwiń
zwiń
start a business in Poland in the form of a capital company and establish cooperation with our Partner
half of the shares of your startup are owned by a person/people who are not Polish citizens, and at least one member of the management board is not a Polish citizen.
Detailed terms and conditions of joining the recruitment process and taking advantage of acceleration support can be found in our Regulations.
How does the acceleration process work?
rozwiń
zwiń
Each stage of our program has been planned in such a way as to consistently bring you closer to your desired goal.
Stage I: softlanding (3 months)
In the first stage of the program we will help you finance your start-up in Poland and plan the development of your product. The goal of this stage is to establish cooperation with a technology buyer or investor and to plan validation. You may receive up to EUR 11,000 for this stage.
Stage II: acceleration (6 months)
In the second stage of the program you can count on financing costs related to development and validation of your solution. Our experts will help you not only to plan the necessary resources for the pilot, but also verify your business assumptions. At this stage, you can receive from us up to 55 000 EUR.
Why should you be closer to KPT ScaleUP?
rozwiń
zwiń
KPT ScaleUP is the largest Polish Industry 4.0 accelerator. For 4 years we have been successfully connecting the startup community with large industrial companies. We have completed 7 six-month editions of acceleration during which we have supported 85 young technology companies.
The group of our industrial partners already includes over 25 representatives of the Polish Industry 4.0.
But the most important proof of our effectiveness is the commercial implementation of solutions developed by our startups.
What do they say about us?
"(…) we benefited and came out well from it" – Artiom Komardin, co-founder of Sense Monitoring
"(…) acceleration is very rich in additional services and knowledge, and formal matters are so much simplified and fast that you do not feel any inconvenience at all. (…) Acceleration in KPT is really well thought out" – Anna Strezynska, founder of MC2 Energy
"Startups and business ideas at a high level, great people, awesome organization" – Grzegorz Kolasinski, co-founder of Business Tailors
"Thank you for the great organization and interesting concept of the event. It was a great pleasure to be able to share knowledge and international inspiration with entrepreneurs and startup founders" – Grzegorz Bratek, founder of Export-Experts
Applications for the programme came from 62 companies from 22 countries:
| | | |
| --- | --- | --- |
| Armenia (1) | Iran (1) | Slovakia (5) |
| Belarus (9) | Israel (1) | Slovenia (4) |
| Brasil (2) | Italy (1) | South Africa (1) |
| Cameroon (2) | Jordan (2) | Spain (1) |
| Croatia (2) | Latvia (6) | Sweden (1) |
| Czech Rep. (6) | Lithuania (1) | Taiwan (2) |
| Egypt (1) | Nigeria (1) | Tanzania (1) |
| Estonia (4) | Portugal (1) | Tunisie (2) |
| France (1) | Romania (8) | Turkey (5) |
| Germany (8) | Russia (1) | Turkmenistan (1) |
| Hong Kong (1) | S. Korea (1) | Ukraine (32) |
| Hungary (2) | Serbia (1) | United Kingdom (3) |
| India (2) | | |
11 selected companies were offered the chance to develop their business in Poland.

List of teams selected for the programme:
AdvanGrid (Latvia)
Haris Digital (Hungary)
Inovec Technology (Czech Republic)
Mellivora (Germany)
NorthCoat (Norway/Sweden)
PSCoat (Czech Republic)
Recoshelf (Ukraine)
Sinfosy Digital (Germany)
Softli (Czech Republic)
Solvedio (Slovakia)
Warden AI (Latvia)
Let's be closer
Contact us – we want to know what do you think about acceleration and how we can help you during the recruitment process.
WHY KPT ScaleUP?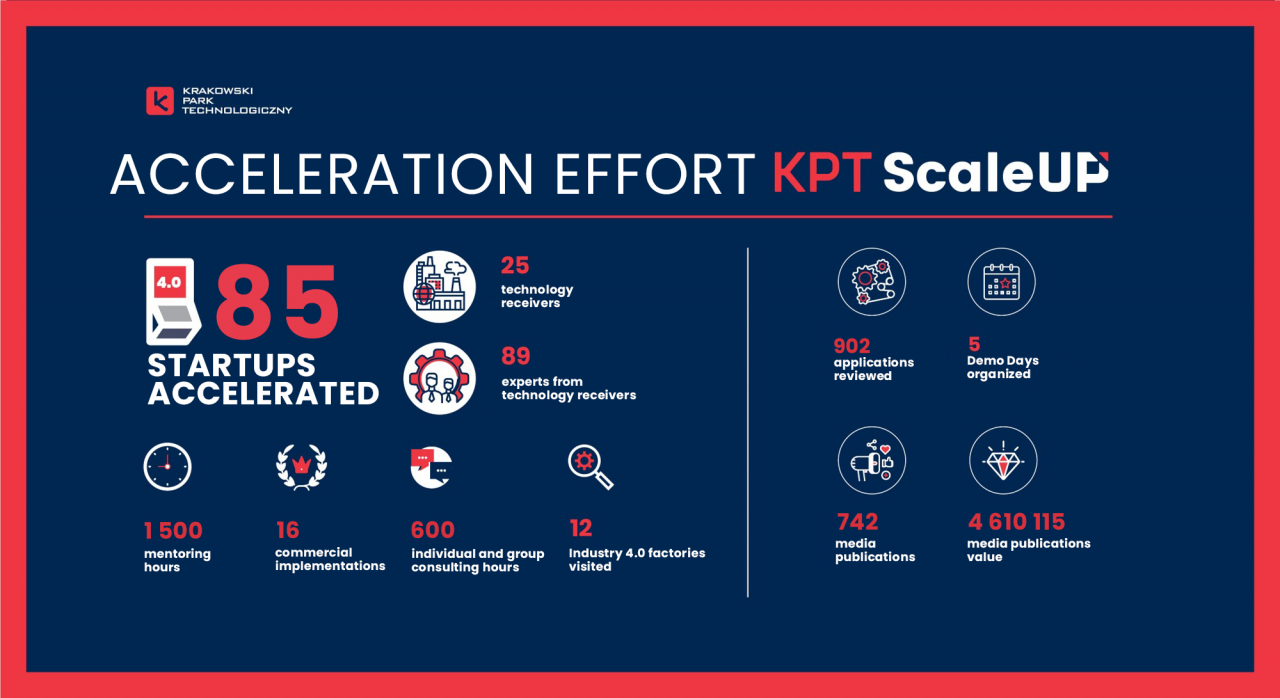 How does the acceleration process work?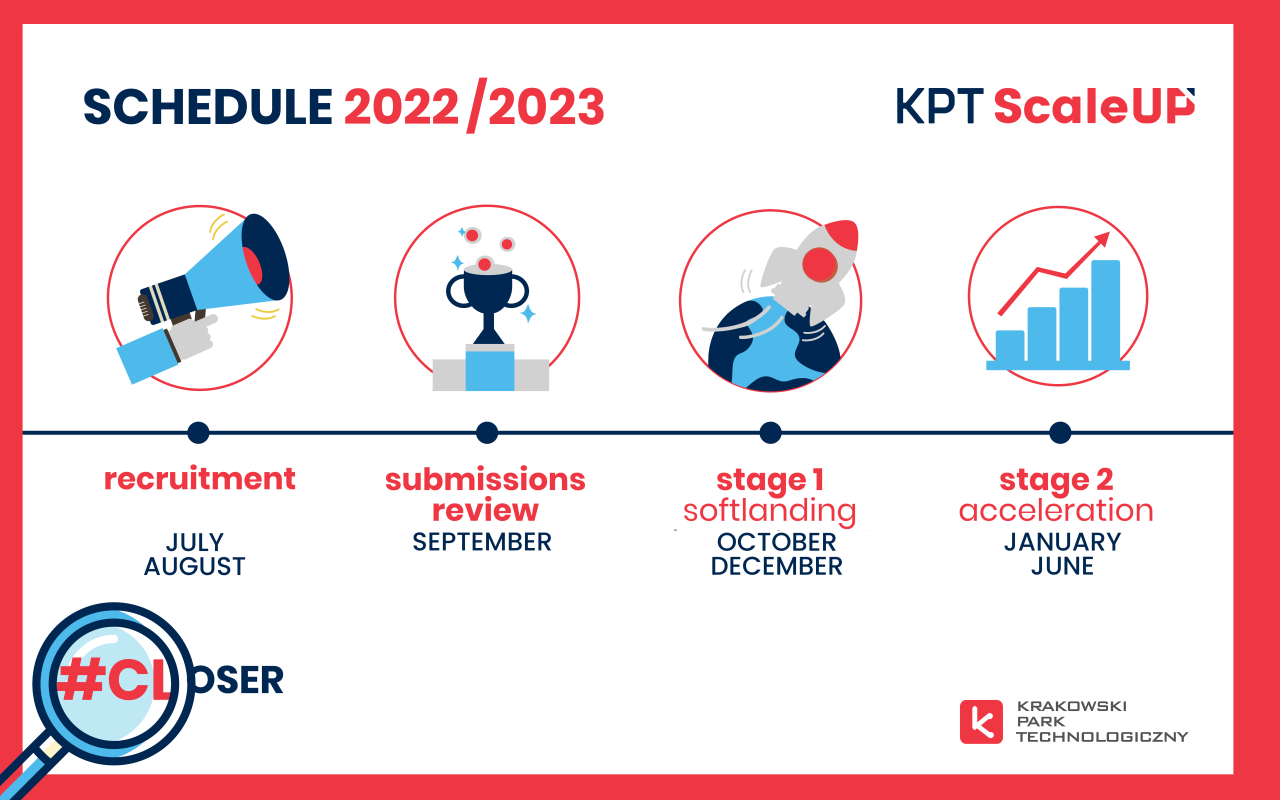 KPT Poland Prize project implemented under Measure 2.5 Acceleration Programs – Poland Prize of the Operational Programme Intelligent Development 2014-2020, co-financed by the European Regional Development Fund.
phone 12 640 19 40
fax 12 640 19 45
Krakowski Park Technologiczny sp. z o.o.
ul. Podole 60
30-394 Kraków
NIP 675-11-57-834