Digital Innovation Hub: a new service from the Kraków Technology Park (KPT)
Industry 4.0 enters Polish businesses.    
KPT's Digital Innovation Hub (DIH) is dedicated to Polish production businesses

The objective of the KPT is to establish a one-stop shop, that is a complex support centre that will provide participants with a broad range of services necessary for evolving into factories of the future in such areas as 5G technology, IIoT, smart robotisation, AR, VR, BIM and many other areas.

The activities are primarily addressed to businesses operating in southern Poland.
Do you have any questions?
Contact us!
contact for companies:
Daniel Kessler
m. +48 537 555 504
Businesses interested in cooperation will receive complex consulting in introducing technologies 4.0 – from the concept stage as far as the selection of the solution and its implementation. They will go through expert scanning, that is an analysis of the current state and potential, and benchmarking tests. There will be able to see live the technologies adapted in leading Polish and foreign businesses, undergo training and participate in workshops preparing to design and introduction of change.
Your business gains:
scanning (analysis of the company's potential) and benchmarking conducted by experts
free training and workshops
study visits in leading Polish and foreign businesses
an implementation strategy
mentoring and consulting starting with concept to go as far as implementation
Our offer is addressed to all businesses, especially production companies, chiefly from the Małopolskie, Śląskie, Podkarpackie, and Świętokrzyskie regions.
DIH KPT one-stop shop
In DIH KPT we will support entrepreneurs who have decided to introduce innovative Industry 4.0 technological solutions in their companies. We will play the role of a complex support centre, known as a one-stop shop for businesses participating in the project. What does this mean? Thanks to cooperation with tested and experienced partners in national and international markets, the Kraków DIH integrates and standardises a range of services covering the leading areas of Industry 4.0 technologies: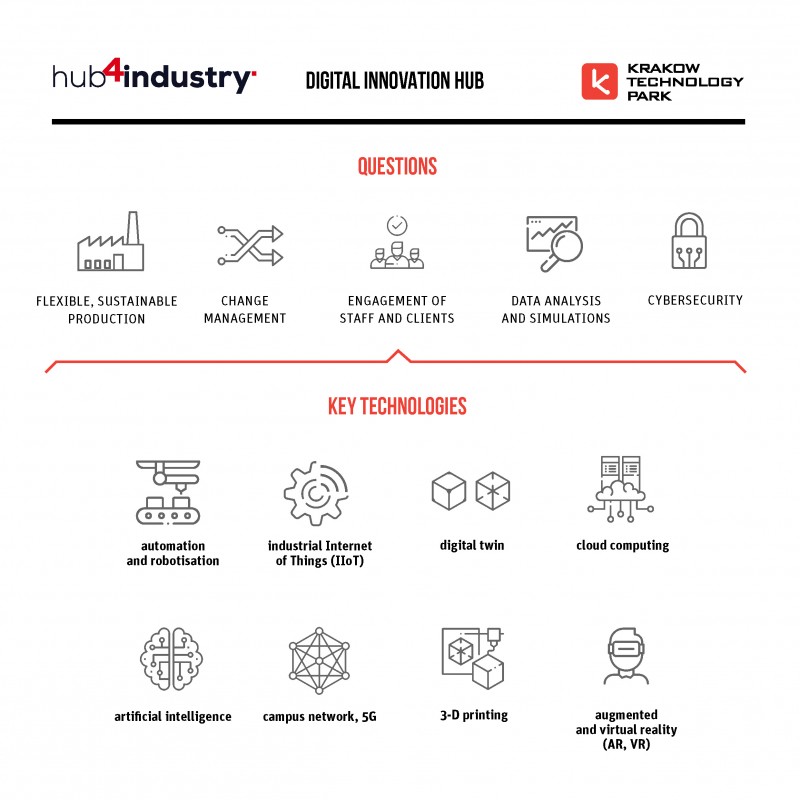 Work with enterprises also accounts for such areas as cybersecurity, efficient change management throughout the organisation, and sustainable use of resources.
Project partners
Our partners are experienced technology companies: T-mobile and ASTOR; institutions of higher education in Kraków: AGH University of Science and Technology, and the Kraków University of Technology (PK), and experts from the Association Cluster of Information Technologies in Building Industry (BIM Klaster) and Kosciuszko Institute.
The roll of partners will be further expanded.

The project
The Digital Innovation Hub (DIH) KPT is Poland's first initiative to tackle the subject of digital transformation of enterprises in such a complex manner; moreover, not only in the areas of hard competences and specific tools, but also of change management and sustainable use of resources. Carried out with support of the Ministry of Development, the DIH KPT aims at educating, supporting, and providing tools that will prepare businesses for the implementation of the latest Industry 4.0 solutions.
The DIH operating in Kraków is the leading consortium, the only one of the five operating in southern Poland. The project developed by the KPT and its partners was selected through competition, winning more points than any other of the 41 entrants.
***
Soon the Kraków Technology Park will provide access to a submission form for businesses eager to participate in the project. Questions can be addressed to: dih@kpt.krakow.pl
---
The project is conducted thanks to the support from the Ministry of Development through the call for proposals for Standardisation of Services of Digital Innovation Hubs for Supporting Digital Transformation of Enterprises.
phone 12 640 19 40
fax 12 640 19 45
Krakowski Park Technologiczny sp. z o.o.
ul. Podole 60
30-394 Kraków
NIP 675-11-57-834