We invite you to expand your horizons at the KPT Academy.
Here we share our knowledge
acquired in the areas in which we specialize.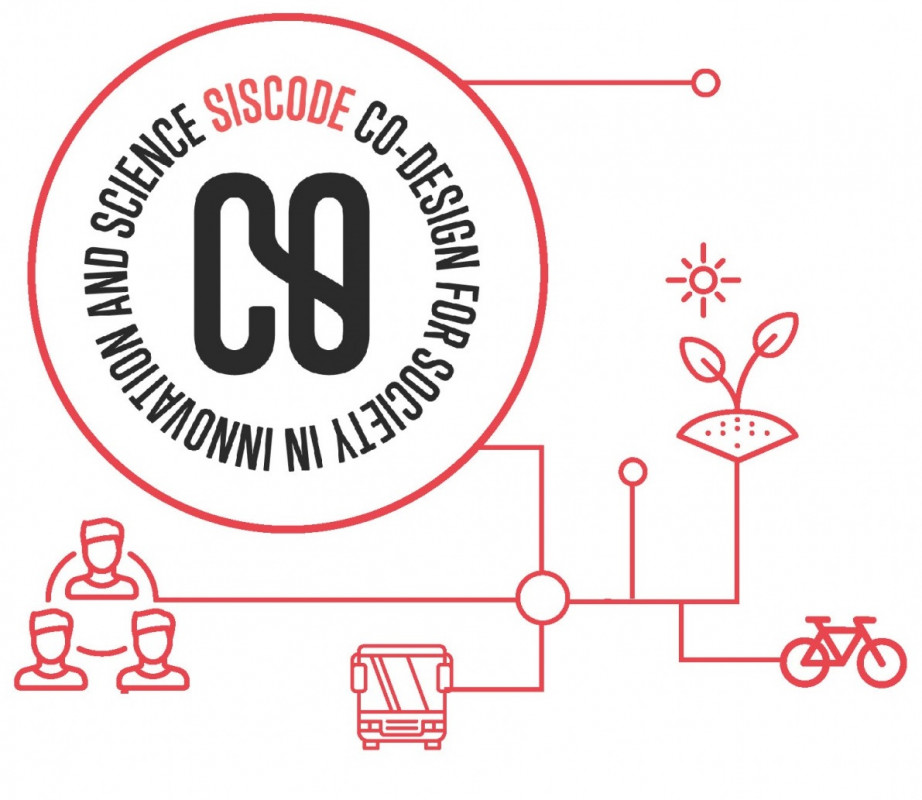 The Krakow Technology Park, together with the Qubit team, has implemented a pilot platform for monitoring industrial pollution in the Malopolskie Voivodeship. Thanks to it, there may be real changes in the approach to taking care of air quality in the region. We invite you to read the report on the implementation of the pilot.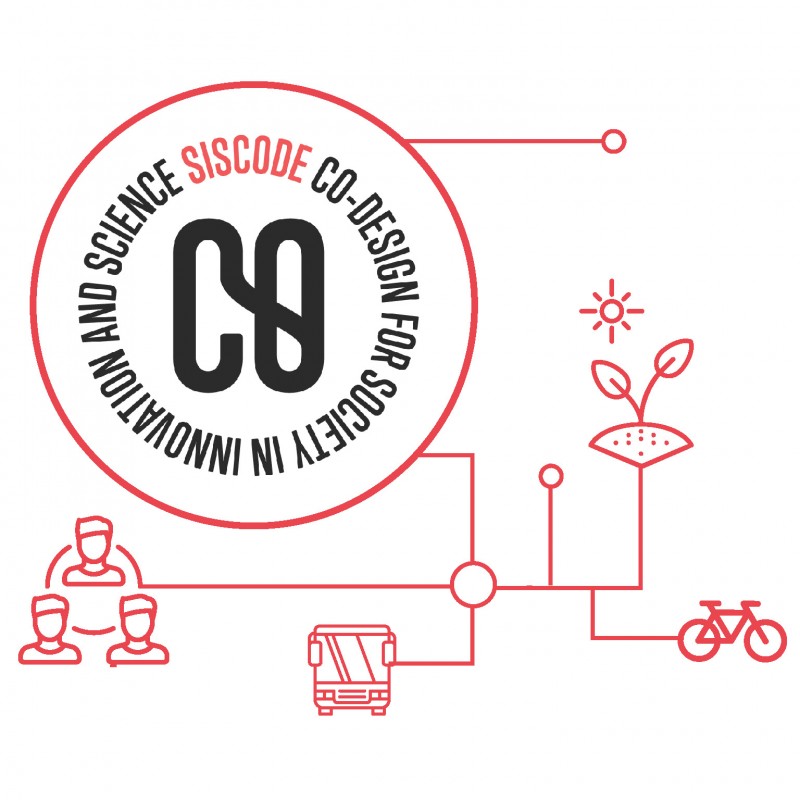 Report on co-creation workshops carried out under the project 'Society in Innovation and Science through CODEsign. SISCODE "financed from Horizon 2020 as part of research and innovation projects.
Kraków Technology Park (KPT) has joined the consultation process of the Air Protection Program for the Lesser Poland Voivodeship by organizing two workshops and two local meetings in living lab methodology (co-creation) in co-creating planned solutions together with representatives of residents, organizations, science, business and local governments. The workshops took place on March 4 and April 1, 2019; meetings with the local community were held on March 20 in Zabierzów and March 27 in Lusina.
The presented report on co-creation workshops is a summary of the workshop works and is not an official or unofficial recommendation, it is a collection of ideas and opinions of all workshop participants.
Technological perspective 2010 for Kraków and Małopolska 
A study done with the foresight method comprises 10 most important technologies for the development of Małopolska and aotlines the scenarios needed for their implementation.
The publication contains a description of selected technologies, the possibilities of their development and their impact on the economy, environment and quality of life of the inhabitants of Małopolska. It also indicates the direction in which research should be carried out at universities in Małopolska and in research units.
The report was created during the project conducted in the years 2008-2011 in cooperation with the authorities of the Małopolskie voivodship, chambers of commerce and Kraków universities: the Jagiellonian University, the AGH University of Science and Technology and the Cracow University of Technology.
The publishers of the report, commissioned by the Krakow Technology Park (KPT), are: Infostrategia, the "Mikromakro Institute" Foundation and IDC Poland.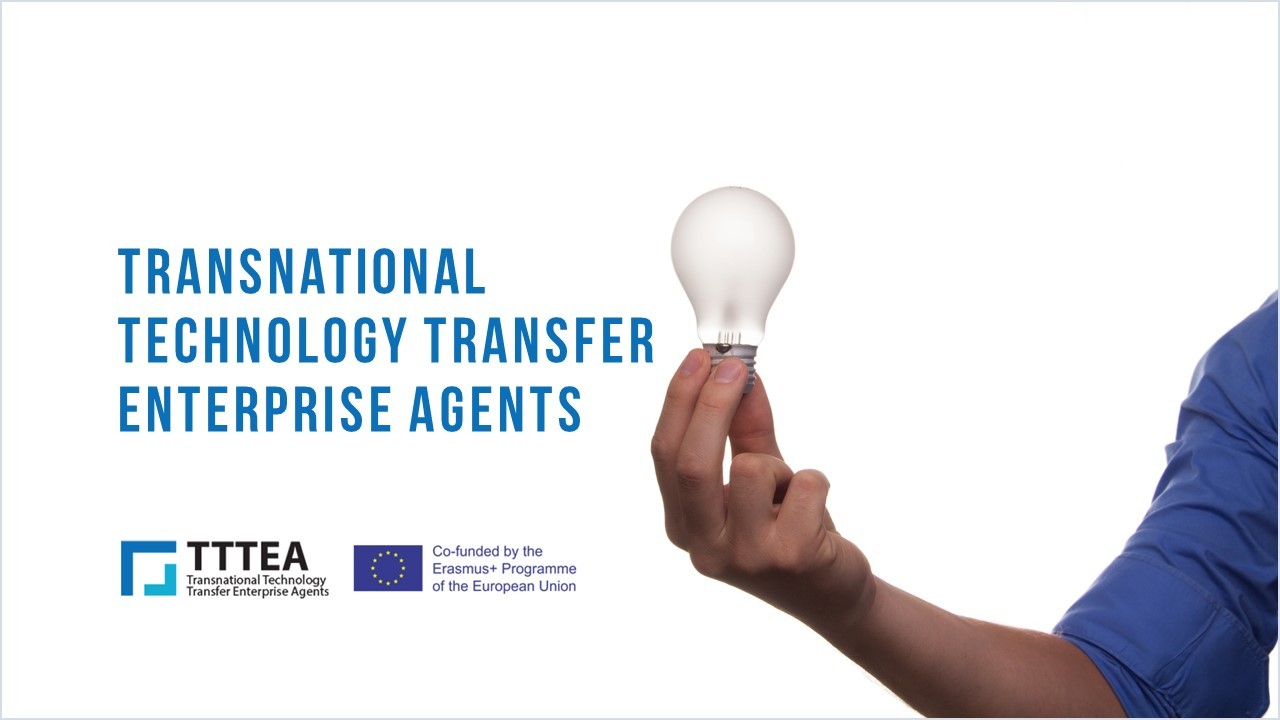 Transnational Technology Transfer Enterprise Agents
Summary of a 2.5 year project (2016-2019), financed with Erasmus+ implemented in partnership with 7 partners from Italy, Austria, Germany, Slovenia and Poland.
The general objective of the project was to increase and upgrade skills and competences of European SMEs in the field of transnational technology transfer and accelerate public and private stakeholder organizations in increasing their responsiveness to SMEs skills needs.
We have realised:
identified needs and expectations related to transnational technology transfer
elaborated 3 online courses in the area of Industry 4.0 and R&D/IP Management and Contracting
created the catalogue of 11 tailored courses and 36 lessons for technology transfer enterprise agents
with cooperation with representative of ASTOR company conducted the workshop dedicated to Industry 4.0 during Joint Staff Training Event in Brescia
organised multiplier event MAKE THINGS 2018 to promote e-learning platform
created added value by introducing synergy between two EU projects: 3D CentralCE project financed by Interreg CE and TTTEA project financed by Erasmus+
created a joint e-learning platform in the area of rapid prototyping, smart engineering and technology transfer covering nearly 50 dedicated lessons within 5 learning units and 15 different modules
created jointly with project partners e-book on joint learning platform for Transnational Technology Transfer Enterprise Agents with description of the courses
DOWNLOAD THE EBOOK: Joint Learning Platform for TTTEA
created guidelines for policy makers and VET and ISA:
DOWNLOAD Recommendations for policy makers
DOWNLOAD Recommendations for VET & ISA
The know-how and experience gathered in TTTEA project will be used in S3HubsinCE project financed by the Interreg Central Europe program. The aim of the S3HubsinCE project is to launch transnational cooperation to promote RIS3 strategy (research and innovation strategy for smart specialisation) by developing a transnational support structure within the framework of Digital Innovation Hubs by building among others a functional, trans-sectoral and transnational technology excellency centres.
3DCentral Catalyzing Smart Engineering and Rapid Prototyping
As part of the project:
we have identified and described suppliers of smart engineering & rapid prototyping technologies and described good practices of technology implementations in Małopolska (including ASTOR case, EC Engineering and IZTW and others)
we have worked together with experts on Robotics Road Map in Lesser Poland
we have launched an e-learning platform offering courses on the subject of Industry 4.0,
we conducted a UX survey of platform users,
we have prepared, among others robotics course (one of the better-rated courses on the platform),
we organized the Make Things 2017 workshop,
we organized a trip of Polish companies to the Frauenhofer Institute in Dresden (2017) and at the VR Expo to Stuttgart (2018)
we organized a session on Industry 4.0 at the Impact CEE conference, etc.
We have also managed to build synergies with our other TTTEA project (Erasmus +) to ensure the continuation, maintenance and expansion of the e-learning platform, we have also managed to establish very good contacts with interesting partners, which are also continued after the project has already resulted in a new project (S3HubsinCE ).
3DCentral e-Learning System
The2.5 year project (2016-2019) was financed with Interreg CE funds and implemented in partnership with 11 partners from Italy, Austria, Germany, Hungary, Slovenia and Poland. The aim of the project was to build cooperation between regions of Central Europe that have high development potential in the area of ​​intelligent engineering and rapid prototyping technologies.
As part of international 3D Central and TTTEA projects, we have developed an e-learning platform that contains trainings in intelligent engineering and rapid prototyping (3D Central) and technology transfer (TTTEA). There are 5 training departments, 15 training modules and 46 thematic lessons the platform. You need to log in to access the courses.
The courses were developed by a joint effort of the project partners: Frauenhofer Institute and Stuttgart Region – Germany, Fabrica Intelligente Lombardia Cluster and South Tyrol Regional Development Agency – Italy, Campus 2 University of Technology and Evolaris – Austria, Technological Park in Lubljana and Pomurian Technology Park – Slovenia, Pannon Business Network – Hungary and Krakow Technology Park (KPT) Ltd. and Cracow University of Technology – Poland.
Research on the Polish gaming industry
We monitor video games market in Poland in cooperation with Gry-Online and Onet. Every year, we publish a study report in Polish and English. The publication is updated year by year to include new, current issues and problems. This is one of the best available sources of knowledge about the Polish gaming industry.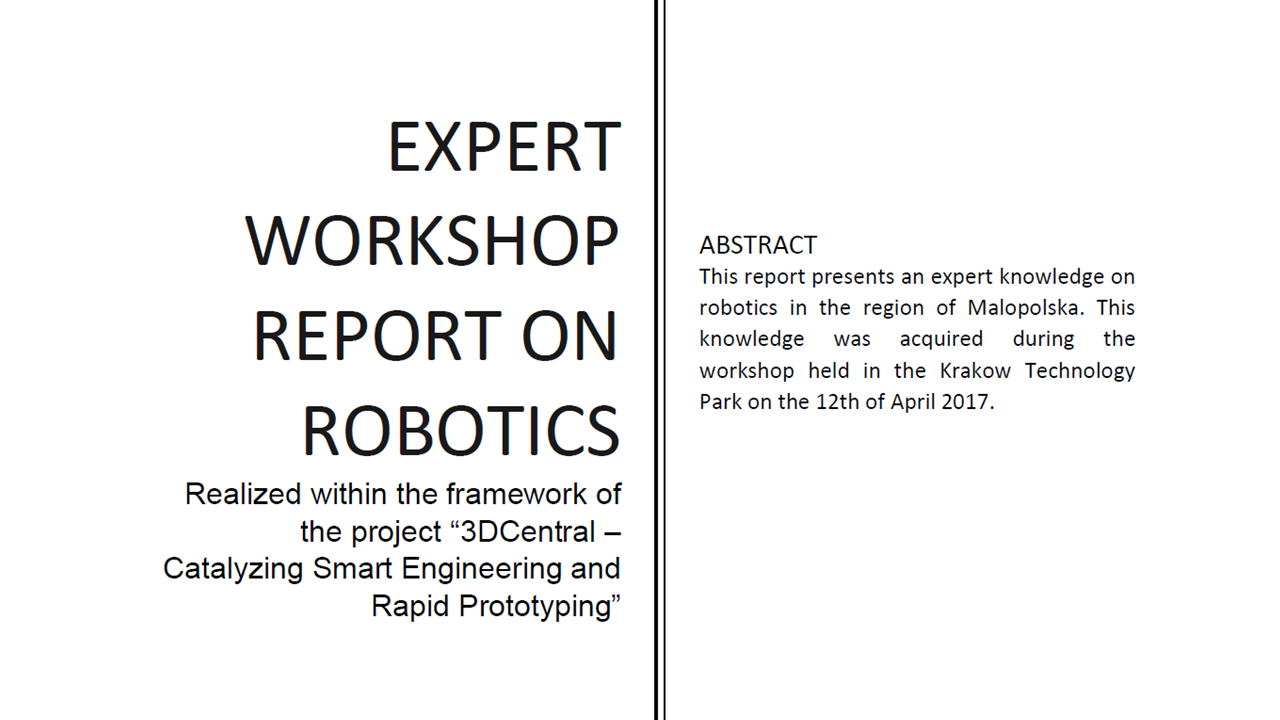 Report on the robotics industry
Report on the condition of the robotics industry in the Malopolskie voivodship in 2017. This is the result of the work of experts – business representatives – of both startups, SMEs and large companies, science and administration. Experts' workshops included, among others SWOT analysis on robotics in Małopolska, identification of new interesting robotics initiatives, information on available sources of project financing at the national level and development of recommendations for supporting the robotics sector.
The report was developed by the Krakow Technology Park (KPT) as part of the "3DCentral Catalyzing Smart Engineering and Rapid Prototyping" project of Interreg Central Europe. The aim of the project implemented in 2015-2018 was to build cooperation between regions in the area of industry 4.0.
SMART_KOM. Kraków w sieci inteligentnych miast
The smart city strategy for Kraków and the Kraków Metropolitan Area was created as a result of meetings, analyzes, discussions and study visits conducted in 2014. The proposal draws widely from smart city solutions tested in similar cities around the world.
It is a joint project of the Krakow Technology Park (KPT), the Lesser Poland Voivodship, the City of Krakow, the Virium Forum in Helsinki and the Technical University in Vienna.
phone 12 640 19 40
fax 12 640 19 45
Krakowski Park Technologiczny sp. z o.o.
ul. Podole 60
30-394 Kraków
NIP 675-11-57-834