3S: Smart Growth. Smart Economy. Smart Factory.
Track: Industry4.0
MAIN Hall
Fireside chat 15.25–15.40 | 15 min
How to create an effective framework between business and science to build an industry of future?
Dominik Rohrmus, Labs Network Industrie 4.0, Berlin, Managing Director
Wojciech Przybylski, CEO, Krakow Technology Park
Fireside chat | 15:50–16:05 | 15min.
"How to implement Industry 4.0 technologies in Poland? A true story."
WORKSHOP STAGE S4, 3 floor

Session 1:   16.00–16.30
Smart Growth
Challenges and opportunities in digitalized civilization | New vision for special economic zones moderation: Małgorzata Popławska, Vicepresident, Krakow Technology Park (session provided in Polish)
Jadwiga Emilewicz, minister of entrepreneurship and technology
Marek Potoczny, Director of Public Funds and Industrial Projects at Valeo Autosystemy sp.  z o.o.
Marcin Mrowiec, chief economist of Pekao Bank
Session 2: 16.30–17.00
Smart Economy
Acting locally winning globally | How regions support the development of innovation?
moderation: Wojciech Przybylski, CEO, Krakow Technology Park (session provided in English)
Different starting points, different approaches but one goal.
What have worked out based on the results of 3DCentral Project? Get inspired by some smart strategies being successfully carried out in regions as Sudtirol, Lombardia, Pomurje/ Slovenia, West Hungary and Malopolska & meet our speakers: Johannes Brunner, IDM Sudtirol, Stefano Ierace, Associazione della fabricca intellgente Lombardia, Marko Mocnik, Technology Park Pomurje, Balázs Barta, Pannon Business Network Association and Robert Maciaszek, Marshal Office of Malopolska Region
Session 3: 17.00 – 17.45
Smart Factory
From  Industry 4.0 to Smart Factory | From vision to action.  
Moderation: Krzysztof Krzysztofiak, Krakow Technology Park, (session provided in English)
Roman Elsner | Fraunhofer IWU | www.iwu.fraunhofer.de
How to improve efficiency of industrial machines
Victoria Ilger, Project Manager | Evolaris | www.evolaris.net
Artur Hanc, CoFounder & CEO | ELMODIS  www.elmodis.com
·        Smart Product Life Cycle
Dominik Kania, Managing Director | Woodward Poland Sp. z o.o.
From data and autonomous decisions to intelligence and actions
Stefan Życzkowski , Chairman & CEO | Astor  Sp. z o.o. |
Maciej Socha, Executive Director | WISNIOWSKI Sp. z o.o. S.K.A.|
During Coffee Breaks there is the opportunity to have B2B meeting with accredited companies, start-ups and Business Innovations Centres and Bodies offering support and dealing with SME & big companies.
REGISTER HERE: Impact CEE 2018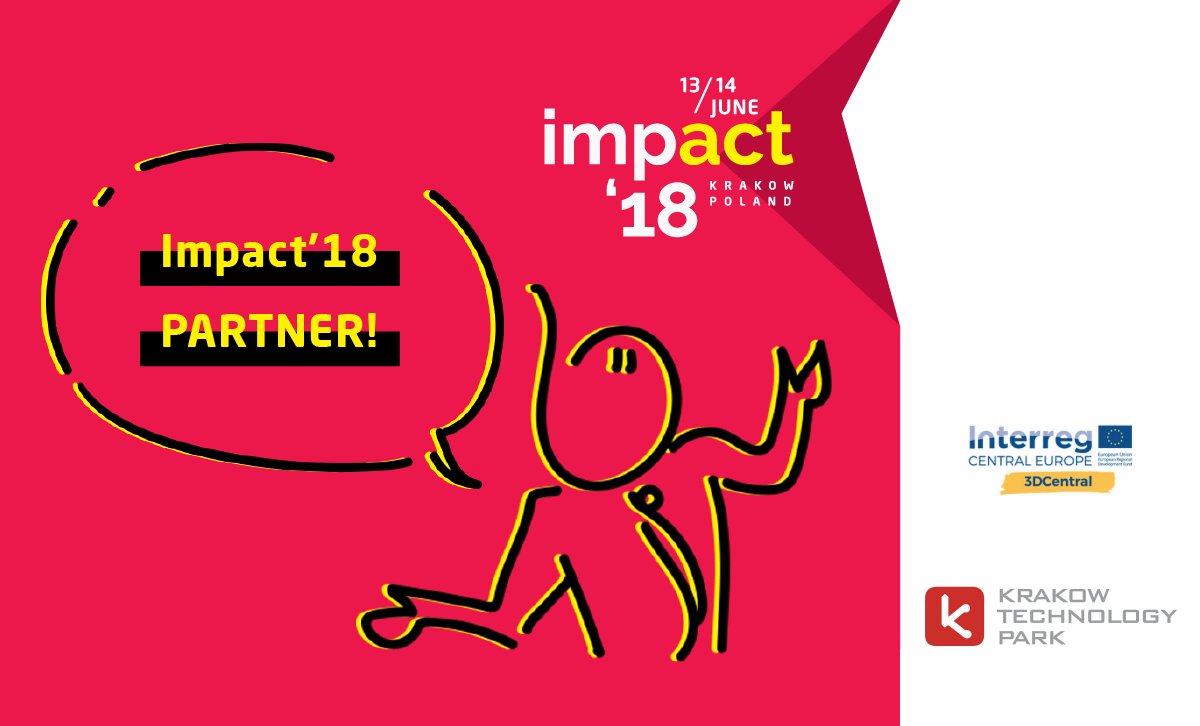 tel. 12 640 19 40
fax 12 640 19 45
Krakowski Park Technologiczny sp. z o.o.
ul. Podole 60
30-394 Kraków
NIP 675-11-57-834